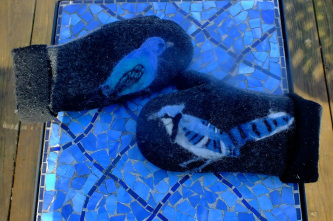 Upcycled Wool Mittens

Let's be prepared for Winter with a pair of ultra warm mittens! In this class we will reuse old wool to create a pair of beautiful and toasty mittens for yourself or someone else. These mittens will be double layered wool on the outside, with fleece liners on the inside, and then optionally needle felted for extra beauty on the outside. No previous sewing or needle felting experience is necessary. Mittens are WNP's preferred hand covering for Winter because your hands will be so warm that you can take them off when you need to use your fingers with no problem. Embracing Winter is much easier with functional and cool mittens!

Taught By Monique Philpot

All tools provided unless you have an old wool sweater that you just have to use! Let us know ahead of time if this is the case, you will have to prepare the wool before the class begins.

Who: anyone 10yrs. and up (children must be accompanied by an adult)
When: Wednesday Dec. 9th, 2016, 6-8:30pm
Where: WNP house
Class Fee: $25 covers materials, tools, and instruction
Registration: Send an email to registration@wildnatureproject.com with your name and phone number and pay in full online with the "add to cart" button below

---
---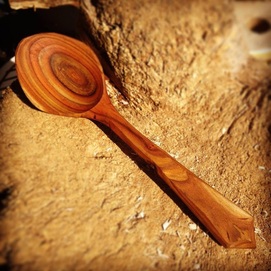 Spoon Making Workshop -class is full!
Join us in learning about this centuries old tradition of greenwood spoon carving, and leave with a beautiful hand carved spoon for yourself or someone else. You will learn many efficient and safe techniques of hatchet reduction, straight knife carving, hook knife use, and wood finishing. The old folk art of spoon carving is being reignited across the country, so beware, you might become addicted! We are so happy to have spoon and bowl carving expert Kyle Pearson of DK Woodworks offering this class just in time for gift giving season! Kyle has been perfecting old and new designs and carving techniques for years. Beginner and advanced students alike will learn something and leave with a finished spoon!
All tools and materials provided.
Who
: anyone 14 and up -limited to 8 students only!
When
: Saturday, December 16th, 2017 11-4pm
Where:
Wild Nature Project Property
Class Fee:
$45 covers tools, materials, and instruction
Registration: P
ay in full online with the "add to cart" button below, then fill out the registion form by clicking
HERE.
---