Kingfisher Canoeing Adventure Camp

A 5-day & 4-night adventure for ages 10-16. (the 4 remaining spots are now open to girls only)
July 23rd-27th, 2017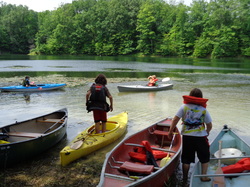 Spend some fun time on the water as we adventure into Sugar Creek near Turkey Run State Park. Along the way we will gather wild edible and medicinal plants, catch fish, track wildlife on the sandbars, and camp along the river banks. In the evenings we'll build a fire-by-friction to cook our food and share stories and songs of the day.
The first night will be spent at the Wild Nature property in Bloomington where we will play some games, get to know each other, and sleep out under the stars. Then we'll head out in the morning to the canoeing outfitters on Sugar Creek. We will spend the first day canoeing, the second day exploring the beautiful forests, creeks, and waterfalls, and then the third day canoeing again. The last night will be a celebratory evening together before heading back to Bloomington the next day.

---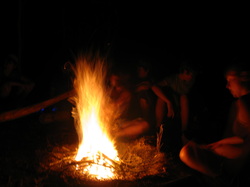 Skills and Activities Include:
Navigation with Map and Compass
Fishing and Primitive Fishing
Animal Tracking
Exploring the Nearby Wilderness on Foot
Identification and Uses of Wild Plants
Wilderness Games
Stories and Songs
Primitive Fire Making & Tending
Relaxing in the timeless drifting of river exploration
---
---
July 23-27, 2017
(7pm Sunday - 4pm Thursday)
Location: Drop-off (7pm) and pick-up (4pm) is in Bloomington, IN. We will be transporting via 15-passenger van to the Sugar Creek near Turkey Run to rent canoes from Sugar Valley Canoes.
Camp Cost: $415 includes canoes, paddles, life jackets, food, water, and transportation
Early Registration: Get a free Mora knife or Flint & Steel Kit when you register on or before Sunday March 26th.
Staff: Monique Philpot and Kevin Glenn
*This camp is only open to 12 participants!

Payment
Select "Add to Cart" and then "View Cart" to pay the $75 non-refundable deposit to hold your spot in the camp.