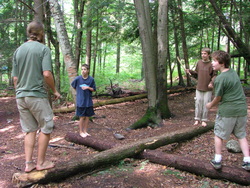 A note on nature mentoring from Kevin Glenn, founder of The Wild Nature Project:

Sometimes our youth and teen programs are seen as something extra-curricular and just for fun. While our programs are lots of fun, what is gained is so much more than a good time. Kids who grow up with this kind of mentoring excel in life and are confident and grounded with high-integrity and have a lot of skills for navigating life's challenges. It's more than just learning to make a fire, it's how to add fuel and grow your fire within you which will open doors and break through fear.

Though it may not be common knowledge, nature connects us with being present, in the moment, in our body, in our senses, seeing complex patterns, feeling relaxed, and even gratitude. Then on top of that we add mentoring which brings out emotional intelligence, leadership skills, the ability to work as a team and to recognize the strengths and gifts of each individual. Are these qualities important or even vital to becoming a developed, capable, and confident adult?

Mentors and nature-connection combined can weave threads of strong, caring, and supportive relations. This is what can not only keep teens out of trouble but also enrich our lives in so many ways.