Spring Peepers Day Camp -for kids ages 7-10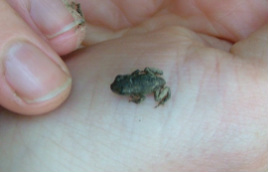 Get your kids outside all day this Spring Break with our day camp! Early Spring is such an amazing, inspirational time to be outside, with birds becoming busy making nests, tree buds swelling and flowering, frogs singing, and young animals moving further from their dens. The world is renewed and coming back to life! Our camps connect kids intimately with the natural world, so the Robin is not "just a Robin" anymore -it is our friend, the one who tells us when a cat or fox is nearby. We play games, have adventures, make primitive natural crafts and projects, hear ancient stories, and come alive with our best selves!
Dates:
March 14-16, 2017, Tuesday-Thursday, 10-3pm each day
Camp Fee: $125
*
plus, some partial scholarships are available!
email registration@wildnatureproject.com for info

Location: Northside of Bloomington, Indiana.
Register: Fill out the online form at the bottom of this page and send us a $50 deposit.
Print the Forms here and bring them on the first day of camp!

---