3-Day Wilderness Survival Skills Workshop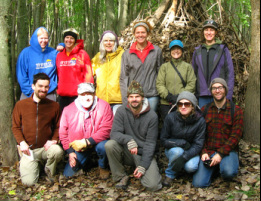 Spend 3 days camping in the hardwood forests of Illinois where you'll learn to make use of the plants, trees, rocks, animals, and landscapes around you. This is an exciting class with lots of hands-on practice in the essential skills of wilderness survival. Participants will learn to make rope, light fires with fire-by-friction, build a shelter that will keep you warm and dry, find food in the wild, and techniques of cooking food over a fire. All this while still sleeping in the comfort of your own tent. However, if you're feeling adventurous and want to sleep in the shelter then by all means go right in!
You will need to bring a good knife. Here's one that we recommend.
Date/Time:
October 20-22nd, 2017 6pm Friday to 5pm Sunday
Class Fee
: $
175*Note: We do not provide food in this course, participants are in charge of bringing their own food to the class.

Location
: Group Campground, Middle Fork River Forest Preserve, 3485 County Rd 2700 E, Penfield, Illinois
Info about the park can be found here http://ccfpd.org/Calendar.html
Registration:
Go to this site to register!
https://apm.activecommunities.com/ccfpd/Activity_Search/wilderness-living-skills-workshop/256
Have questions? Email
registration@wildnatureproject.com
---
---
Fire Craft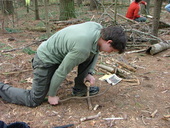 Fire has likely been a part of human existence since the beginning of human-beings. Even in our modern lives it heats our homes, runs our cars, powers our lights, and promises hot water when we turn on the tap. This class will explore fire in its most basic and ancient form; through fire-by-friction. Each participant will make a bow drill kit and learn how to use it to start a fire. You will also learn how to build a 1-match fire in the woods.

Saturday February 4th, 12pm-5pm, $50For adults ages 18 & up or 13 & up when accompanied by an adult

Register by making an online payment (below) and by emailing
registration@wildnatureproject.com
with your name, phone number, and class(es) you are registering for.
**you will need a good, sharp knife for the fire class. I recommend this knife as it is affordable, sharp, and I've never had a blade break on me.
Class held in Bloomington, Indiana
---
---
3-Day Earth Skills Class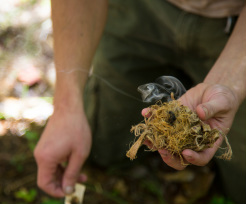 This hands-on course will cover a lot of fun and interesting topics that are geared towards improving your long-term survival skills and nature knowledge.
Skills Topics Include:
Making Primitive Jerky and Pemmican
Hand Drill Fire-by-Friction
Flint Knapping and Using Stone Tools
Medicinal Plants: tinctures, salves, and first aid
Mud Oven: Making and Cooking
Wild Fermentation and Food Preservation
Basketry and Containers
Primitive Trapping
Footwear: Moccasin Making
Steam Pit Cooking
Date: TBD

Program Fee
: $195
*Note: We do not provide food in this course, participants are in charge of bringing their own food which keeps the program cost down.

Location
: Group Campground, Middle Fork River Forest Preserve, 3485 County Rd 2700 E, Penfield, Illinois
Info about the park can be found here http://ccfpd.org/Calendar.html
Registration
: $50 deposit required by May 1st; to register call (217) 896-2455 or email
pleiter@ccfpd.org
Have questions? Email
registration@wildnatureproject.com
---