Wilderness Ninja Camp

Connect to Nature. Build a Village. Run Wild.

July 26th-29th, 2016
Ages 10-15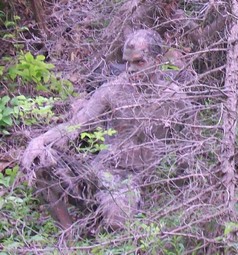 Learn the exciting ways of the forest ninja. This will be an in-depth journey into camouflage, the art of stealth, self-defense, and developing our senses to perceive and detect what is happening around us. Our daily routines will consist of martial arts, wilderness parkour and movement, performing tasks while blindfolded, and exercises to quiet the mind and enhance our senses. We will also build an obstacle course and play lots of new games that put together the skills that we are learning.

Natural Camouflage
Stalking, Stealth, and Movement
Wilderness Parkour: balance, flexibility, jumping, climbing, and crawling
Self-Defense: drawing from Brazilian Jiu Jitsu and Filipino Martial Arts
Connecting to Nature and Enhancing our Senses
Practicing a "Quiet Mind"

Registration Details:
Camp Times:
Tuesday through Friday, 10am to 3pm, July 26-29
Camp Fee:
$140 per person (ages 10-15)
Camp Location:
North of Bloomington
Class taught by Kevin Glenn and guest instructors
---
---
Shadow Walker Class:
Advanced students will be invited to participate as "shadows" where they will sharpen their skills of camouflage, tracking, bird language, and sensory awareness. They will practice working as a team to accomplishing secret missions which will be given each morning. This class meets on Monday from noon to 3pm and then from 9:30am-3pm the rest of the week.
Shadow Walker class fee: $100
---
Pay Deposit Below: (it says "Dragonfly Camp" but just ignore that)