The world needs Peacemakers. Do you feel it? Is this your calling?
---
Peacemaker
Community and Connection through the Practice of Peace

taught by
Paul Raphael

Nov. 10th-12th, 2017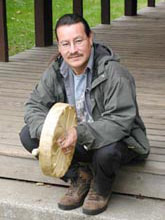 Paul Raphael is an Odawa Peacemaker of the 3 fires and an internationally respected mentor in cultural repair. He has worked with Tribal Courts and State Courts where he developed alternatives to incarceration through a nature-based Drug Court. He works with people all over the world in helping to develop healthy communities through the teachings from his Elders and his vision. In this experiential workshop, Paul will share indigenous wisdom from his traditions.

---
---
If you have attended a community-building workshop with us in the past then you've most likely heard about Paul. We are very excited to host someone with such a deep knowledge of community building practices, rites of passage, healing grief, mentoring, and peacemaking.
These vital teachings will help you to:
Gracefully negotiate and reconcile conflict
Create reciprocal relationships across difference
Deepen personal awareness and self-responsibility
Understand the role of ceremony in the health of individuals and communities
Choose your finest words—speaking and listening from the heart
Cultivate unity with self and others
This weekend workshop is perfect for leaders, facilitators, mentors, parents, grandparents, and anyone interested in deepening their connection to nature, self, and others.
---
2 spots left in the class!

Date/Times: Friday Nov. 10th-Sunday Nov. 12th, 2017
7pm-10pm Friday (eat dinner before arriving)
9am-10pm Saturday (lunch and dinner will be served and included in price)
9am-4pm Sunday (lunch will be served and included in price)

Location: just north of Bloomington, Indiana

Workshop Fee: $215 (includes lunch, dinner, and lunch)

*You may camp onsite (with your own gear or rent a 4-6 person tent for $20) or make your own accommodations, or sleep at home if you live in the area.

Registration: fill out the form below and then pay online to register.

---
*The deposit is non-refundable and holds your spot in the course. If you have to cancel your registration for some reason we cannot issue a refund.
Space is limited.