Primitive Hunting: The Art of Stealth

This is a fun skill-building class for anyone interested in the old way of hunting. Our focus will be on building essential skills for set-hunting deer from the ground or stalk hunting squirrels with a bow and arrow. Students will make their own camouflage clothing that will be better and less-expensive than anything you can buy in a store.

Beginners or experienced hunters welcome!

Camouflage and Concealment
Stalking and Movement
Wildlife Tracking
Primitive Hunting Blinds


Bring a bow and arrows if you have them as we will use them to practice stalking through various terrain and vegetation. If you don't have a bow you may borrow one for the class.

*This class is taught outdoors where we will be very hands-on. No powerpoint presentations... just real practice and field time.Date

: Sunday September 28th, 11am to 5pm (bring a lunch or snack)

Location

: Just north of Bloomington, IN

Program Fee

: $65

Registration

: fill out the form below and pay the $30 deposit. We will then send you the gear list and driving directions.

---

"I wanted to share that with some of the techniques I learned in the stealth class, I've had a blast hunting so far. Gotten multiple deer within 10 yards or less from me and I've had birds land on me while stalking. So I must be doing something right! Thanks!"
-Alfonso

---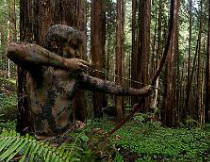 Learn to Hunt the old way with the...
Primitive Hunting & Archery Skills Class
Spend the weekend learning ancient and practical skills of the hunt. This class is for experienced hunters seeking to expand their skill-set into archery hunting from the ground and for those who are new to hunting altogether. This is NOT a lecture-based class... we will spend a LOT of time in the forest putting our skills to use with hands-on activities.

Tracking Skills for Hunters
Stalking and Movement
Camouflage (visual, scent, and auditory)

Primitive Blinds and Tree Stands
Hunting Strategies for Specific Animals
Archery Skills: instinctive shooting, shooting from different positions, carrying the bow and arrows
Skinning, Gutting, and Processing an Animal
State Laws and Regulations

$115 per person, add $85 each additional family member
10am Saturday to 3pm on Sunday (meals not included)
For ages 18 & up, or ages 12 & up with an adult

This class will be added to the early Fall 2014 Schedule.
Register by emailing registration@wildnatureproject.com
and paying the $30 online deposit.
---