"Wilderness Rite of Passage"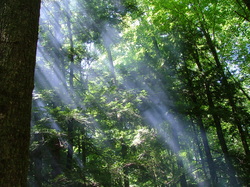 What is a Rite of Passage and how does it benefit the community?
​Around the world ​many ​indigenous people​s​ would send their adolescent teens through immersive Rites of Passage to prepare them for ​the adolescent journey to ​adulthood. Today, it's rare to see such an intentional transformational process. Through these rituals, the individual comes to a deep understanding of their self (inward), their interdependence among their community (outward), and develops their own personal relationship to the great mystery (spirit).
Rites of passage serve as markers of significant moments in our lives. They define the thresholds between one chapter and the next and help us to both see and realize our own progress as we move through life. If you have already created a coming of age rite of passage for your teen, consider yourself commended! Some families have found this wilderness rite of passage to be complementary to their prior coming of age experiences.
A rite of passage can be broken down into three stages:
Severance (departing the familiar/comfortable)
Trial (encountering a new/challenging situation)
Return (being welcomed home with a fresh perspective)
---
---
Support:
If you would like to see a world where young adolescent teens discover how to carry themselves with integrity and confidence, to hold the earth and the future generations in their heart, and to stand tall and be truly helpful​,​ then consider supporting this long-term community initiative.​​ Donating to our scholarship fund will give teens the opportunity to attend this training who wouldn't otherwise be able to afford it. 100% of donations goes directly towards the tuition of low-income teens.

GoFundMe page coming soon!

---
Details:
The next experience will be July 28th-August 1st, 2017
For boys and girls ages 13-17
Program Fee: $325

"Put the Quest back in Question and the Search back in Research"

Participants will go through a full-day of preparation and training on-site before heading out into the wilderness alone for a 24-hour solo journey. This is where the participant will face the "trials" part of the process. The return to the village is just as important as the departure and is where the true meanings of your experience often reveal themselves. Family and close friends are welcome and encouraged to attend a celebration on the morning of August 1st as part of the transition home.
The training begins when we send out assignments to you before you arrive. This is important ground-work to prepare the participant for the experience.

Register with this link to the Google form

---
Guides
The role of the guide is that of a mentor, a facilitator of the experience, and a protector while the Questers are out on solo.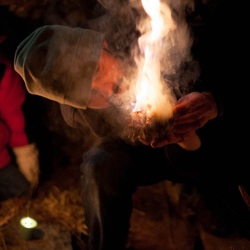 Kevin has been leading nature-based Rite of Passage programs for teens since 2004. Today, his mission is to bring this empowering work to a greater number of teens in the Bloomington area.

---
Monique has been involved in leading wilderness immersion programs for teens including Rites of Passage for 8 years.

---