---
The Apprenticeship:

Learn through 3 seasons with...

The
Wilderness Leadership
Immersion Program

An incredible 9-month, 3 season journey

---
How do you learn a language? Through immersion!

What would it be like to fully immerse yourself in a long-term program
where you'll be guided by mentors?

Imagine spending 9-months learning the language of nature
through wilderness survival skills, naturalist studies, leadership, mentoring, applications of permaculture, overnight camping experiences, and hands-on projects.

---
Spend one weekend per month for 9-months immersed in this exciting course. As a participant you will get lots of hands-on experience in wilderness survival skills, nature-connection, animal tracking, the art of community, and naturalist studies. The field-experience aspects of the course will be enriched with profound tools of connecting deeply to nature, building community relationships, peacemaking, and how to facilitate healthy regenerative culture.
We will first explore wilderness survival skills, nature-connection, teamwork, community relations, and the eye of the naturalist. For those interested in design you will have a greater holistic approach to reading a landscape and understanding the resources available. This extended 9-month format of this course will allow us to take advantage of the opportunities in each season.
This is a great hands-on, field course opportunity for anyone in the Midwest region; Indiana, Kentucky, Ohio, Michigan, or Illinois.

---
Curriculum:
Our Curriculum is based on the "8 Shields Model" developed by Jon Young and members of the greater nature-connection movement.

As a participant you will develop many key life-skills including:
Teamwork

Leadership: through vision, strategy, stories, mental state/attitude, and networking

Mentoring: one-on-one strategies for cultivating growth, learning, and personal gifts in another

Communication: giving and receiving feedback, finding the need behind the communication
Inner-Tracking: going into the shadow to discover the hidden light

Playfulness: nurturing the child within and a fun, playful attitude

---
Would you like to...
have the ability to envision, design, and implement regenerative landscapes that repair not only the earth but the human relationship with it
understanding nature on a personal and deep level
know how to inspire others (students, kids, friends, etc.),
develop skills of observing patterns, developing the senses, and awareness of your surroundings
have sufficiency in natural fire building, shelters, finding water and food, and other survival skills
be knowledgeable of plants (in the wild and in the garden) including identification, uses, medicines, and propagation
learn hands-on homesteading skills including beekeeping and beehive making, salves and tinctures, and more
gain a better understanding of your own personal strengths and gifts and how to use them
have a working sense of the cycles and opportunities of the seasons
develop your ability to observe group dynamics and facilitate intentional experiences
cultivate a vision for healthy culture and communities that are in balance with people, nature, and self expression
---
---
9-Month Program Curriculum:
*based on the "8-Shields Model" created by Jon Young and members of the greater nature-connection movement.
Core Routines of Nature-Connection
Bird Language and Alarm Behavior

Inner-Tracking: inner work and navigating the inner landscapes so you can cultivate personal strength, passion, and vision

Wild Edible & Medicinal Plants: making tinctures, salves, and teas from wild plants

Leadership Training: confidence, heart, listening, organizing, and seeing the gifts in others

Stewardship of Wild Places
Wilderness Survival Skills: natural shelters, fire-by-friction, pure water, finding food

The 8 Shields of Nature-based Culture and Deep Nature-Connection

Principles of Peace: understanding and applying the principles of peace as we've learned from our Mohawk elders

The Art of Mentoring: bringing people together and how to inspire others and share the incredible things you are learning!

The Art of Community: Equipping the Villagers and Creating a Healthy Sense of Community in our Lives

---
Leadership
Our goal is to not only give you a whole host of incredible skills but also to empower you as a leader in your community.
1. A leader knows when to lead and when to step back and let others shine.
2. A leader has the ability to work as a team and to see the value, abilities, and contributions of each individual on their team.
3. A leader has passion, vision, and flexibility.

---
Our Mentoring Team includes Kevin Glenn, Monique Philpot, and guest instructors

Kevin Glenn
Specialties: Nature-Connection, Survival Skills, Animal Tracking, Mentoring, and Cultural Facilitator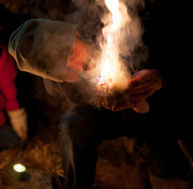 Having been an apprentice with Mark Morey of
The Institute for Natural Learning
since 2001, Kevin has lead wilderness programs for youth and adults both here in Indiana as well as in the Northeastern U.S. He loves sharing his passion for nature-connection, outdoor leadership, the art of tracking, survival skills, and building strong and positive relationships and a healthy sense of community. Kevin has attended 8 "Art of Mentoring" week-long workshops and has been a student and facilitator of the 8-Shields mentoring model for over 12 years. This has given him a deep understanding of relationships of people, nature, and the self.
In 2000 Kevin attended the Wilderness Awareness School's 9-month Anake Outdoor School and loved it so much that he vowed to run his own 9-month program some day. He has also been a student of Tom Brown Jr.'s Tracker School since 1999, and is a certified Life Coach and NLP Practitioner with a B.A. from Indiana University. He is here to facilitate an environment that brings out the best in each person and to make sure that we have lots of fun in the course.
---
---
Monique Philpot
Specialties: Nature-Connection, Wild Medicinal Plants, Permaculture, Mentoring, and Culture Repair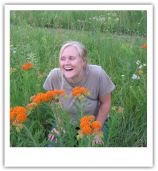 Monique brings a strong background in medicinal plant knowledge along with many years learning and teaching primitive survival skills and nature-connection. She spends most of her free time outdoors tending her garden and orchard and loves discovering new animals, plants, and wild edibles on her wanders. You can find her on Monday evenings teaching her popular "Medicinal Mondays" class. She has worked for years with children of all ages in wilderness programs, camps, rite-of-passage programs and more. As a student of Jon Young and the 8-Shields, Mark Morey, and Tom Brown Jr. she has a passion for creating healthy, nature-based community of which she is excited to share with this class.

Monique has been an instructor for youth and adult programs with The Wild Nature Project since 2008. She has her Permaculture Design certification and a B.A. from Indiana University.

---
---
Year 1 Program Tuition: $2,610. Deposit of $500 is due by August 1st with remaining balance due 2 weeks prior to the start of class.
Early-Bird Special: $2,349 (save 10%) if deposit is paid on or before March 31st, 2016!


Year 2 Program Tuition: $1,305. Deposit of $500 is due by August 1st with remaining balance due 2 weeks prior to the start of class.

Payment arrangements can be made.
Inquire at registration@wildnatureproject.com
If you have questions, contact:
registration@wildnatureproject.com
Location:
Bloomington, Indiana. The main location is on Bloomington's North-side, though we will also explore a variety of wilderness areas in our region.
Class meets one weekend per month for 9-months! Meets 7pm Friday through 12pm Sunday2017-2018 Times/Dates 2018/19 dates
September 15th-17th September 21-23October 20th-22nd October 19-21
November 17th-19th November 16-18December 15th-17th December 14-16January 19th-21st January 18-20February 23rd-25th February 15-17March 23rd-25th March 22-24April 27th-29th April 19-21May 5th-7th May 17-19Send us an email or call us up and let us know that you're interested in this program. We would love to hear from you!
---